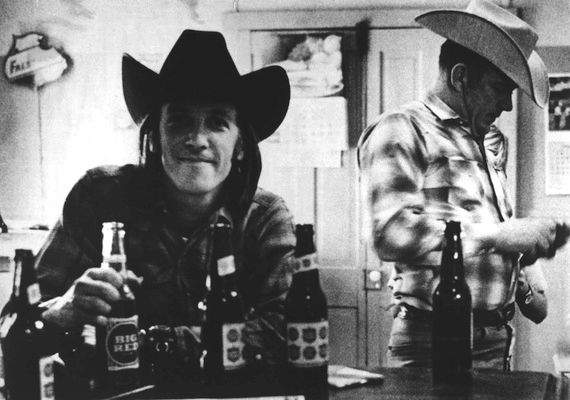 Tradition runs rampant around Thanksgiving: generations of old recipes, football, Alice's Restaurant, The Final Waltz, and, obviously, a parade of balloons shutting lower New york city. What else do you want? Should you thought you had been covered within the Thanksgiving tradition department, we did too…until a couple of years back, if somebody blew the pull out a lengthy lost tape — Doug Sahm's Thanksgiving Jam.
Thanksgiving weekend, 1972: the Grateful Dead found themselves in Austin, allowing Garcia and Lesh to rendezvous by having an old San Francisco Bay Area running buddy, Mr. Tex-Mex themself, Doug Sahm, and piano-journeyman Leon Russell, in the famous Armadillo World Headquarters for any musical cornucopia of roots music. No genre remained untouched – blues, bluegrass, R&B, rock & roll, honky tonk and, naturally, Bob Dylan. All performed by having an random band, including people of Texas psychedelic pranksters The 13th Floor Elevators and Shiva's Headband, having a setlist that effortlessly bounces from hellcat versions of Kristofferson's "Me & Bobby McGee" and also the Stones' "Wild Horses", to some don't-spill-your-beer "T For Texas", saddled with stompin-the-nails-out-of-the-floorboard cuts like "Hey Bo Diddley" and "Money Honey". This can be a shitkicker of show, best offered switched up, with fistfuls of poultry and pint glass of the favorite sumthin'. words/ d norsen
download/tracklisting following the jump…

Download: Doug Sahm And Buddies – Austin, Texas 1972 (zipped folder)
November 23, 1972 – Armadillo World Headquarters, Austin, Texas
Note: this two disc collection was compiled from the three disc set via Lance at Adios Lounge.
First Set
01 Rearfoot Athletic shoes (Tommy Tucker)
02 Wild Side Of Existence (Hank Thompson)
03 Swingin' Doorways (Merle Haggard)
04 Me & Bobby McGee (Kris Kristofferson)
05 Stormy Monday (T-Bone Master)
06 That's Okay (Mama) (Arthur Crudup)
07 Seriously Within My Kitchen (Robert Manley)
08 T For Texas (Jimmie Rodgers)
09 Mr. Tambourine Man (Bob Dylan)
10 (Is Anybody Goin' To) San Antone (Charley Pride)
11 Sugarfoot Rag (Hank Garland)
12 I'm So Lonesome I Possibly Could Cry (Hank Johnson)
13 Jambalaya (Hank Johnson)
14 Today I Began Loving You Again (Merle Haggard)
15 Columbus Stockade Blues (Traditional)
16 Honky Tonkin' > Dear John (Hank Johnson]
Second Set
01 Orange Blossom Special (Bill Monroe)
02 Kentucky Waltz [Bill Monroe)
03 Big Boss Man (Jimmy Reed)
04 Searchin' (The Coasters)
05 Individuals Lonely Lonely Nights (Earl King) > Shake A Hands (Faye Adams)
06 Hey Bo Diddley (Bo Diddley)
07 It Requires A Great Deal To Laugh, It Requires A Train To Weep (Bob Dylan)
08 A Tough Rain's Gonna Fall (Bob Dylan)
09 Wild Horses (Moving Gemstones)
10 Slippin' Into Christmas (Leon Russell)
11 Money Honey (Drifters/Elvis)
12 Chug-A-Lug (Roger Miller)
13 Rollover Beethoven (Chuck Berry) > Good Golly Miss Molly (Little Richard) > Rollover Beethoven (Chuck Berry)
Players: Doug Sahm, Leon Russell, Jerry Garcia, Mary Egan, Benny Thurman, Phil Lesh, Jerry Barnett
Resourse: http://aquariumdrunkard.com/2016/11/21/happy-thanksgiving-doug-sahm-and-buddies-austin-texas-1972-4/
Leon Russell- Wild Horses/A Hard Rain Is Gonna Fall Leon Russell (USA) performs on the Plaza Mayor during ¡Globalquerque! – New Mexico's 9th Annual
COMMENTS:
Brad Wareham: They played it like Leon Russell's version and they came out swinging, especially for a first try. John Burke: +Brad Wareham … Like Leon Russell? I suppose so but, man they really nailed it in their own style. Aaron Modglin: +John Burke like Russell they changed it to 4/4 instead of 3/4 time. It's very much like Russell's version. Memphis Ryan: the shit Kelly Pearce: Badass. Great video. Every time. iceburgclimber: +Kelly Pearce ….Yes it is I second that emotion!! L Crane: You just can't mess up a Bob Dylan song. I love to hear the different interpretations of his songs. Stephen Denner: Agreed! They are covering the Leon Russel version. Randy Lee Whitehead: Not after Bob already messed 'em up. Just KIDDING. KIDDING!!! Amanda Dawson: Oh, where have you been, my blue-eyed son?\n Oh, where have you been, my darling young one?\n I've stumbled on the side of twelve misty mountains\n I've walked and I've crawled on six crooked highways\n I've stepped in the middle of seven sad forests\n I've been out in front of a dozen dead oceans\n I've been ten thousand miles in the mouth of a graveyard\n And it's a hard, and it's a hard, it's a hard, and it's a hard\n And it's a hard rain's a-gonna fall\n \n Oh, what did you see, my blue-eyed son?\n Oh, what did you see, my darling young one?\n I saw a newborn baby with wild wolves all around it\n I saw a highway of diamonds with nobody on it\n I saw a black branch with blood that kept drippin'\n I saw a room full of men with their hammers a-bleedin'\n I saw a white ladder all covered with water\n I saw ten thousand talkers whose tongues were all broken\n I saw guns and sharp swords in the hands of young children\n And it's a hard, and it's a hard, it's a hard, it's a hard\n And it's a hard rain's a-gonna fall\n \n And what did you hear, my blue-eyed son?\n And what did you hear, my darling young one?\n I heard the sound of a thunder, it roared out a warnin'\n Heard the roar of a wave that could drown the whole world\n Heard one hundred drummers whose hands were a-blazin'\n Heard ten thousand whisperin' and nobody listenin'\n Heard one person starve, I heard many people laughin'\n Heard the song of a poet who died in the gutter\n Heard the sound of a clown who cried in the alley\n And it's a hard, and it's a hard, it's a hard, it's a hard\n And it's a hard rain's a-gonna fall\n \n Oh, who did you meet, my blue-eyed son?\n Who did you meet, my darling young one?\n I met a young child beside a dead pony\n I met a white man who walked a black dog\n I met a young woman whose body was burning\n I met a young girl, she gave me a rainbow\n I met one man who was wounded in love\n I met another man who was wounded with hatred\n And it's a hard, it's a hard, it's a hard, it's a hard\n It's a hard rain's a-gonna fall\n \n Oh, what'll you do now, my blue-eyed son?\n Oh, what'll you do now, my darling young one?\n I'm a-goin' back out 'fore the rain starts a-fallin'\n I'll walk to the depths of the deepest black forest\n Where the people are many and their hands are all empty\n Where the pellets of poison are flooding their waters\n Where the home in the valley meets the damp dirty prison\n Where the executioner's face is always well hidden\n Where hunger is ugly, where souls are forgotten\n Where black is the color, where none is the number\n And I'll tell it and think it and speak it and breathe it\n And reflect it from the mountain so all souls can see it\n Then I'll stand on the ocean until I start sinkin'\n But I'll know my song well before I start singin'\n And it's a hard, it's a hard, it's a hard, it's a hard\n It's a hard rain's a-gonna fall Ruth Lown: Sweet!!! Chris Kessler: I love widespread Jean-Michel Pascal: Whow, Jimmy and his faux-slide technique at https://youtu.be/KsbJP4prn8U?t=2m46s with vibrato… \nJe mets au défi n'importe quel guitariste de reconnaitre, à l'oreille, qu'il joue sans bottleneck. Trey Thompson: Thank you very,very,much! Vulcan Man: fricken awesome!!!! michael hunter: Dylan said each line in this song was a song in its own that he never got around to writing \n\nThe Toddfather looks great\n\nGrew his hair out? Brooks Poole: I don't even know how to respond to the last part of this statement…… Nicholas Fadely: Todd nance hasn't been with the group for some time now. JP McConaty: All but positive this here is my single favorite cover done by the boys since Michael was taken from us linda theobald: ohio mule sez…………