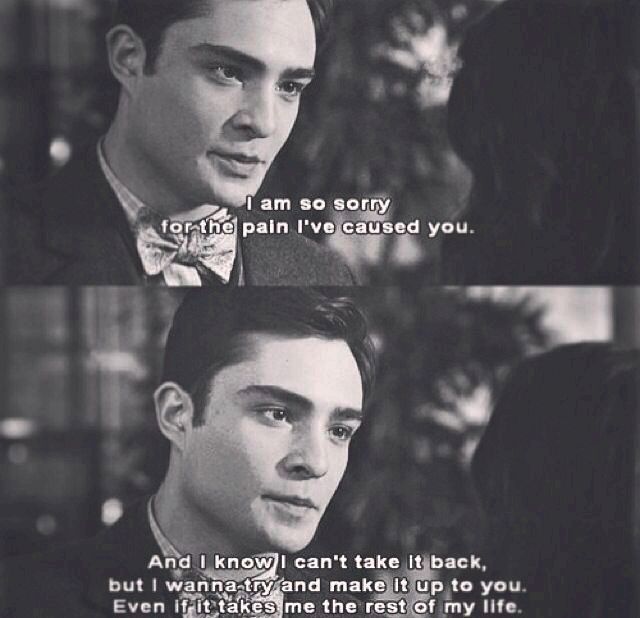 1. "I am Chuck Bass."
Only slightly conceited.
2. "XOXO, Gossip Girl"


Legendary.
3."I do not need buddies, I want more champagne."
Most likely probably the most relatable captions.
4. "What's Thanksgiving with no side of drama?"
On-site visit the machine. Beat the machine.
5. "Whomever stated that cash does not buy happiness did not know where you can shop."
Ah, I can tell the posh bags full of discounted products now.
6. "We make our very own fairytales."
All for female empowerment by means of a glass slipper.
7. "Better a damaged nose than the usual damaged heart."
One factor this caption screams— black & white-colored filter.
8. "Three words. Eight letters. Express it and I am yours."TBH, this caption would best be suited having a picture of my acai bowl from South Block.
Resourse: https://theodysseyonline.com/
">
Gossip Girl Finale- GG Season 6 episode 10
COMMENTS:
Johanna Mila: chuck and blair, the best couple ever..
Gretel Hansel: I was smiling and crying throughout this episode.
itsvivienv: same here, I wish it wasn't over..
Carlene McLean: i'm so sad gossip girl's over but i think this was the best episode ever.
RB WIZKIDZ: this is like the best movie show ever am totally addicted
Debora Viel: so who was gossip girl
Tara Simic: dan humphrey
Diana Mocanu: you got the love – florence and the machine
Marina: Love serenate but the way dan n serena looked in each others eyes. I melted.
itsvivienv: Yeah, I think they r back together, Lilly & Rufus!
MusicLyrics15: +Alice Reichfeld but why did they kiss on lips than?
Sunny YoungEasy: +itsvivienv no they are not getting back together
Claudy: So Lilly and Serena's father are together? OR Lilly are with Rufus? In the video it seems like Rufus kissing Lilly on lips 🙂 Isn't? 
SivagNead: thank god im not the only one who cried because its all over :(
Thayna Santana: TAYLOR MOMSEN <3
Karen Blackman: Omg this has to be the best show ever …xoxo
danny wang: OMG!!! same song as in sex and the city!!! Sex and the City and Gossip girl… I could see some resemblance between the 2 shows!!!! best shows EVER. 1st resemblance :D\n
Ilona Rickert: why chuck not kissing blair ?? \nthe last kiss,..
Ilona Rickert: I´m crying ;((((((((((((
Natálie Jurdová: i think henry killed me when he yelled 'daddy' to chuck