Gunfire and suicide explosive device blasts wiped out 41 people and wounded 239 at Istanbul's primary airport terminal in Poultry Tuesday after three suspected Islamic Condition militants continued a rampage after which blew themselves up, Reuters reported.
Listed here are 10 heartbreaking pictures of the terrorist attack's destruction: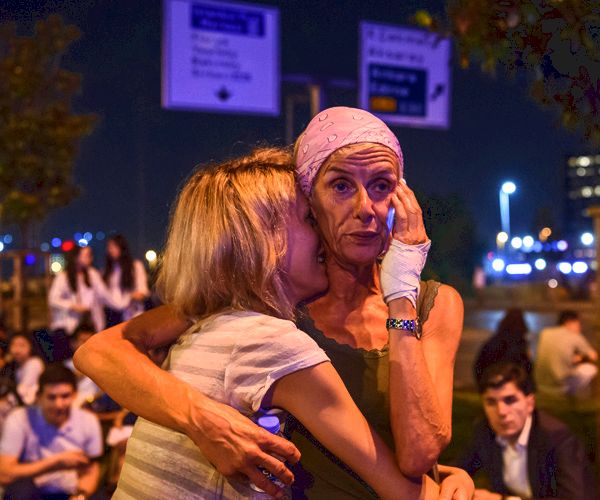 Passengers embrace outdoors Ataturk airport's primary entrance in Istanbul, on June 28, 2016, after two explosions adopted by gunfire hit Turkey's largest airport terminal, killing 41 people and wounding 239. (Ozan Kose/AFP/Getty Images)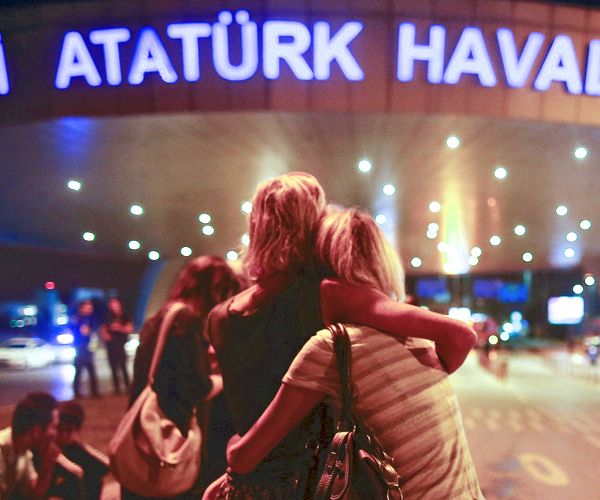 Passengers embrace one another in the entrance to Istanbul's Ataturk airport terminal early Wednesday, June 29, 2016 following their evacuation following a blast. (AP Photo/Emrah Gurel)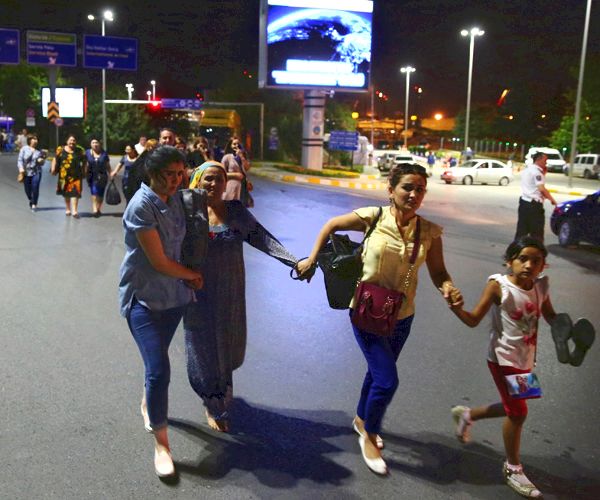 People leave behind Istanbul Ataturk airport terminal, Poultry, carrying out a blast June 28, 2016. (Goran Tomasevic/Reuters)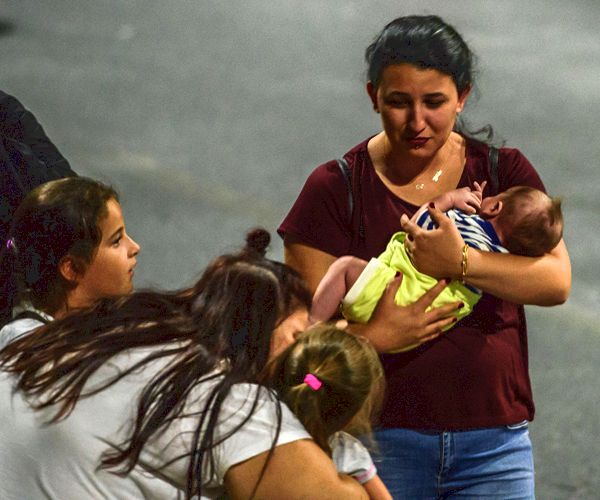 Children as well as their relatives embrace because they leave Ataturk airport terminal on June 28, 2016, in Istanbul after two explosions adopted by gunfire hit Turkey's greatest airport terminal. (Ozan Kose/AFP/Getty Images)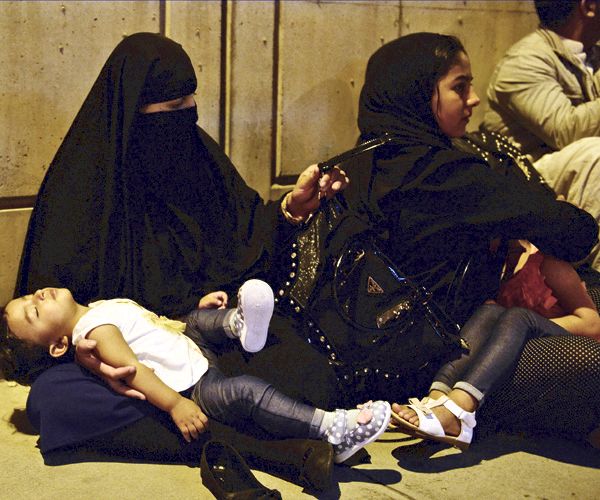 Passengers rest around the pavement outdoors Istanbul's Ataturk airport terminal early Wednesday, June 29, 2016. (AP Photo/Emrah Gurel)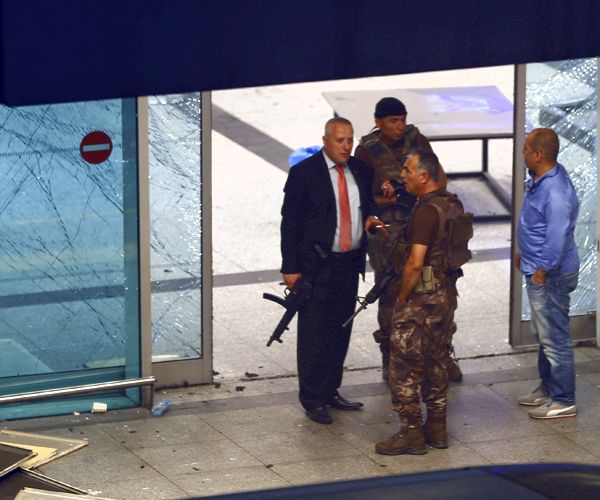 Armed security stand in an entrance of Turkey's largest airport terminal, Istanbul Ataturk, Poultry, carrying out a blast June 28, 2016. (Osman Orsal/Reuters)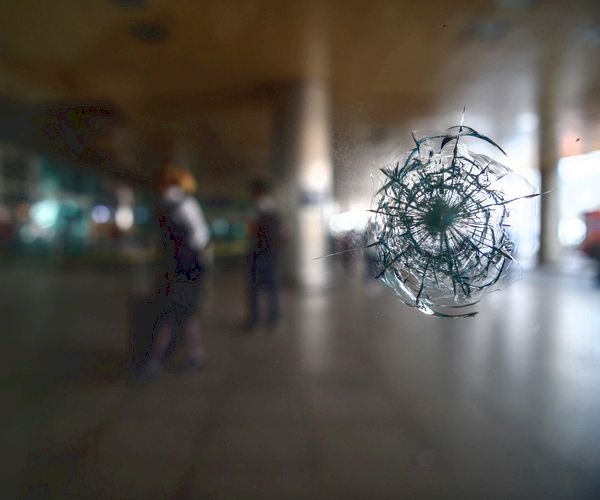 A bullet impact is pictured on the window on June 29, 2016, at Ataturk Worldwide airport terminal in Istanbul, each day following a suicide bombing and gun attack targeted Istanbul's airport terminal. (Ozan Kose/AFP/Getty Images)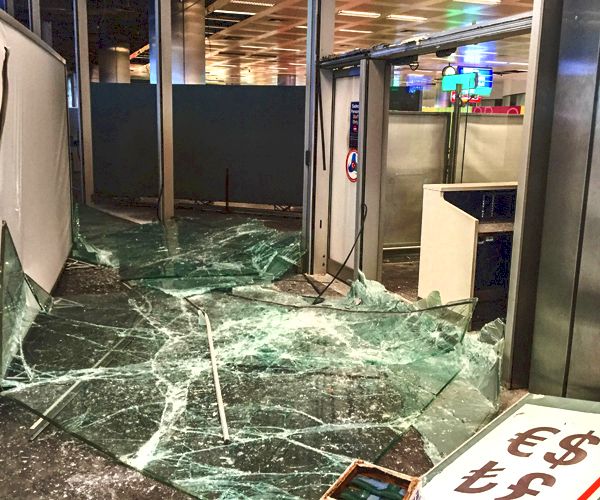 Damaged home windows are pictured in the attacks and explosions site in Ataturk airport's worldwide arrivals terminal on June 29, 2016. (Ozan Kose/AFP/Getty Images)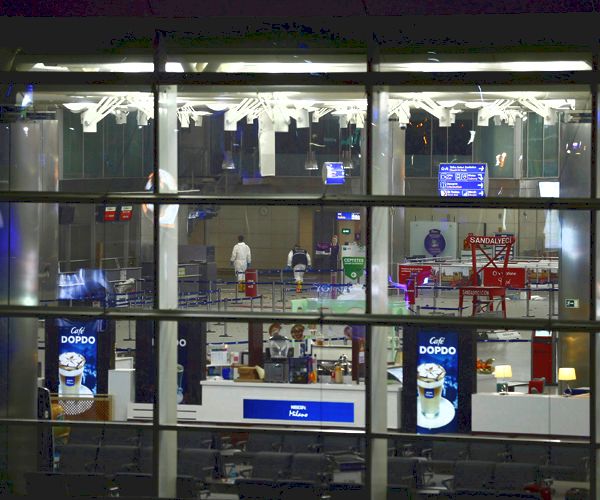 Officials walk inside Turkey's largest airport terminal, Istanbul Ataturk, Poultry, carrying out a blast June 28, 2016. (Osman Orsal/Reuters)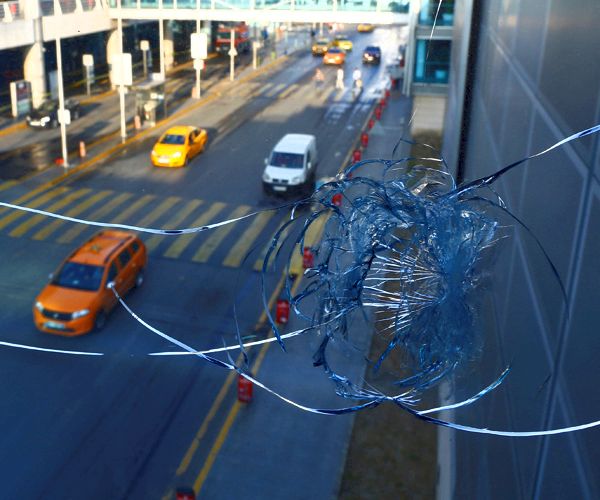 Vehicles are noticed behind a damaged window at Turkey's largest airport terminal, Istanbul Ataturk, Poultry, following Tuesday's blasts. (Osman Orsal/Reuters)
Resourse: http://newsmax.com/TheWire/poultry-istanbul-airport terminal-terrorist/2016/06/29/id/736191/
The Islamic State (Full Length)
COMMENTS:
VICE News: VICE News reporter Medyan Dairieh spent three weeks embedded with the Islamic State, gaining unprecedented access to the group in Iraq and Syria as the first and only journalist to document its inner workings. Watch more here: \n* The Rise of British Jihadists in Syria\n* Syria's Unending Rebel Conflict: Wolves of the Valley\n* Embedded with Al-Qaeda in Syria: ISIS and al-Nusra
quad squad: scum bag ugly mother fuckers\n take a fucking shower piglets!
Mr fragmire flying: 
Jek Tono Porkins: I like how the ISIS press secretary hates the west yet he is wearing ray-bans.
IX Auxiliary: They all seem like the person that gets chosen last when playing football
straight botz: IX Auxiliary these old heads telling young dudes to commit suicide for Allah is sickening
Edward Amadeus Alexander: IX Auxiliary I agree. Lame, weak faggots.
Ragnar Lodbrok: "Instead, send your soldiers, the ones we humiliated in Iraq." You mean the ones that overthrew your shitty regime within two months and forced you cowards to hide in the rural areas to plan out guerrilla attacks?
Matt: +Costantino Milvio I have not found any evidence that suggest that former baath officials work with ISIS. The Baathist are waging an insurgency against The US occupation forces, the Iraqi Puppet regime, and ISIS. In 2016, a senior baath party official called for a general uprising against ISIS in Mosul accually. It may appear that the baathist fight with ISIS, against the Americans and allies, but, i dont see how ISIS would fight comradely with Secular, and, Arab socialist forces.
Eternalife: These people are so brainwashed and fucked.. unwillingly, but none the less
Wade Hamilton: That's from your paradigm\n\nThey equally think you're brainwashed
Jihadism Explained.: nuance? surprising for youtube.
ItsmeJamesAJ: Jesus, how did they even get ISIS to allow them to film?
Vance Stone: +Adam C VICIS
daak79: "Convert to Islam. If you don't accept this, you can pay non-Muslim tax. If you don't accept this, there is nothing left between us but killing and fighting" Ok so maybe all Muslim in Europe should pay non-Christain tax instead receive a state benefits? Seems fair.
fbfreak1907: daak79 But the countries of Europe are not based on religion. Therefore your argument is invalid
Ntsako Phakula: God willing? what kind of god wants this?
Sarah Odell: AGOD OF WAR AND SEXUAL HATE A GOD OF SLAVERY, The ONE and ONLY GOD is a LOVING GOD and would never ask his own children to KILL THEMSELVES and others. His NAME IS YESHUA AL MESSIACH and I PRAY HE GIVES THEM DREAMS and VISIONS waking them FROM THE CLUTCHES OF PURELY LUCIFERIAN god….an unrighteous god that lies to them sends them to die and then enslaves their souls forever in hell….God forbid…it breaks my heart Muhammad's wife's family was rich and from Catholicism, it is a very big lie, the Pagan worship of the moon, and the moon is goddess is   married to The Sun worship in Catholicism, The Sun god ….it is sad that people just believe their governments, and their brainwashing from childhood, little do they know Israeli blood runs through their veins, by their ancient father Esau and the so called "Infidels ",or "Christians" are their ancient brothers and sisters in Jacob, two brothers one  a hunter the other more spiritually close to God, Esau sold his Birthright for a bowl of porridge, and then lost his Inheritance as firstborn too, so these brothers still fight. Even though Esau still was blessed with the dew of Heaven ,and all the gems and riches but still ,The Lord sais Esau's heart will grow wrestles in the end of days and search out to Kill his ancient Brother's and sisters ,but there is always hope, read the ending of the Story of Esau and Jacob it has a nice ending to a horrible mix up, they both Love Israel! I pray for all of them and I am angry at my country men for hurting their children and woman, and now the extremist's have made Esau's heart restless, If America does not get rid of it's wicked ways and repent to Yeshua the Messiach, and put down the Idols of Baal, they will indeed march on the White House Lawn but, that's what happens when Christian's turn their backs on The Most High, God of Abram ,Isaac, and Jacob! We are in end times and the Lord comes to judge us all and he can use who ever he wants to judge the Nations of the West and the East, the North and the South…..For who can stand against The Most High YHWH!? No one! I pray for them and us,for we all must learn to Love again, and come back to our first Love, so that he will come back to us, Yeshua is the only one who can truly solve this mess and he is coming back soon!! Choose Love and Peace, choose Yeshua the Messiach of the World, Savior to the orphaned, to the captive, to Widow and the poor and needy, the first will be last and the last will be first! and to those who believe in him and do not Deny him theirs will be the Kingdom of Heaven! Amen-
Peter Hardie: Is it compulsory to be ugly to join ISIS?
iAm Rossi: Peter Hardie I believe so